I have a great team of counsellors working with me who all have a variety of experience in counselling adults and children, and are fully up to date with safe guarding procedures and work within the BACP ethical framework of which we are all members.
I am a qualified counsellor with a wide range of experience, working in various settings with children, adolescence, adults and couples.
I work to provide a safe, confidential and non-judgmental space for you to explore and identify your difficulties, at a pace that is comfortable to you. Whatever you are going through we can work together to help you make sense of your experiences.
I use an Integrative approach which means that I have trained in various models of therapy. These include Humanistic, CBT, Psychodynamic and TA. I decided to train in this way as it enables me to offer alternative methods of helping and allows me to adapt my approach to suit your individual needs and circumstances. I believe that therapy is not about telling you what to do, it is about nurturing your personal growth, becoming self-aware and guiding you so you are able to find your own solutions and make positive changes.
I am a relational counsellor and the essence of my approach is empathic understanding and emotional connection with my clients. Some clients have attended their first session expecting it to be quite formal, which they soon realise it isn't. There are no airs and graces. It is important that we are comfortable with each other, and can build a trusting therapeutic relationship. A lot of us put on masks and put up barriers to the external world, but in the counselling room you are free to be yourself. I will not judge you and I will accept you as you are. Your feelings are real and valid, and will be acknowledged in our counselling space.
I decided to become a counsellor due to the difficulties I have experienced in my personal life. Counselling helped me to understand myself, and I became aware of how my thoughts and feelings impacted my mood and behaviours.
Therapy can offer you the space to unload the stresses of life in which you can experience being heard. It can help you to heal and provide you with the tools so you are able to help yourself in the future.
I also work with couples and children from the ages of 5-18. I work in primary, secondary schools as well as an agency setting. I currently work at Barnardo's as a link therapist for the family support service. This involves working with individual family members or whole family support.
I have also run social inclusion projects for young people that are in, or are leaving the social care system. The participants of the group have a range of difficulties and are from diverse backgrounds. I offer support with many social issues: domestic violence, drugs and alcohol, gang involvement to name a few. Mentoring and coaching as well as emotional support were part of this role.
A BACP qualified counsellor with 14 years experience in delivering counselling to adults, children and young people. I have worked in the public and voluntary sectors.  I have experience of working  with anxiety, depression, low self esteem, bereavement, abuse, anger management, sexuality, confidence building, amongst other sectors, child related issues, cultural issues,   OCD, Personal development, Phobias, Post-traumatic stress, Pregnancy related issues, Redundancy, Relationships, Sexual identity, Spirituality, Stress, Trauma, Work related issues. 
We all go through times when we feel unable to cope and may struggle with our thoughts, feelings and behaviours. The counselling service I can offer is professional, confidential and discrete.
I can provide you with a safe, non-judgemental space where we can explore together the issues or difficulties you may be facing.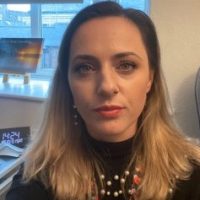 My name is Almira and I am an Integrative counsellor. I work in various schools counselling children.  I am a fully qualified counsellor and registered member of the BACP. I feel very passionate about counselling and want to help people to access the support they need. Helping to empower people to find the best solutions for themselves. Together we can explore why you may be thinking negatively about yourself. Too often people compare themselves to others and not believing in their own qualities and strengths. They may not even realise they have those qualities and strengths. So together we can help you to feel more confident and build your self-esteem. Self-awareness is the key to helping you understand yourself better and move forward if you are feeling stuck.
 My training includes various models, Psychodynamic, Humanistic and CBT. I use a variety of techniques that enable me to adapt my approach to work with the client's needs. I also use creative interventions for those clients that feel comfortable to do so. It is not always easy to talk and find the right words for how we feel, so using emotions cards and creative approaches make this easier for some people to express how they feel. I also work with children and have worked in various school settings for large organisations such as Place2Be. I use art and play therapy as well as talking  to help the children to feel more relaxed and build their resilience. I have a range of experience, working in various settings which includes working with children, adolescence, and adults.
 During these challenging times, many people have experienced issues with their mental health and well-being, and I am here to support you or your children with some of those challenges. Having so much time off school, missing their friends and not having a normal routine has all been very hard for many children and adults. I am passionate about counselling and well-being and supporting adults and children to feel happier and confident. I see the positive changes counselling can bring to people's lives. I offer a confidential space to talk and explore your emotions. I know from personal experience how important it is to find someone that listens and supports you. 
Hello, I'm Matthew a qualified, friendly integrative counsellor with a core focus on person-centered therapy. I am a registered member of the BACP. It's often very hard to ask for help. I will provide a safe, confidential, non- judgmental and trust rich environment to promote and encourage deeper understanding of the self, which will help you to live your life to the full. We will work together to identify issues that are causing you difficulty or pain and find your answers.
My approach is tailored to your individual needs and personal circumstances. I use different techniques dependent on your issues and we will explore together which is the best fit for you. I believe that this combined, flexible process will provide the best outcome.
I also work with a charity specializing in helping clients with drug and alcohol addiction, recovery or past trauma that interrelate with depression and anxiety. I have experience in helping clients with video game/internet addiction and neurodiversity including ADHD, dyslexia and autism.
"You are never too old to set another goal or to dream a new dream" By C.S.Lewis